Ika Natassa is a novelist. If you have read her books, you might notice some similarity in settings: banks! Most of her heroines work in banks, including Andrea of A Very Yuppy Wedding and Keana of Antologi Rasa. Ika Natassa, unsurprisingly, works in a bank too, which makes her even more inspiring as she's able to juggle between being a (very) productive novelist while still being on top of her banking career. I interviewed her to crack her genius in doing both.
Ika Natassa also established a startup called LitBox, which is Indonesia's first literary box subscription service. You could subscribe to the service and receive books of their recommended readings every month.
You have published a number of best-selling novels and "Twitter literature". What is your favourite work to date, and why?
I guess Antologi Rasa. I worked my ass off when I wrote that one, writing from first POV from multiple characters is no walking in the park, but I'm very pleased with the result, and I also love that the readers seem to receive the book very well too.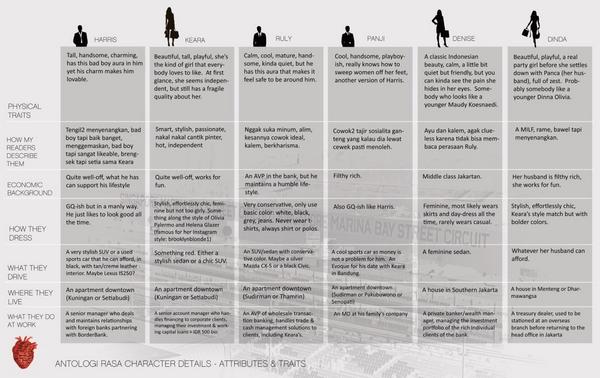 Antologi Rasa Character Details, made by Ika Natassa
Having a full time job, while at the same time, being a prolific writer… When do you usually write? Are you a morning or night person?
I write whenever I can and whenever I feel like it, so I don't set a specific schedule to write. My publisher understands my work habit. Hence, they never set any deadlines for me. They basically just say: "well, if you finish the book before this date, we can publish on this date". Things like that. Sometimes I write after dinner, sometimes I write on Saturday morning. I don't really have a preference, I just write whenever I feel like it.
Where do you write?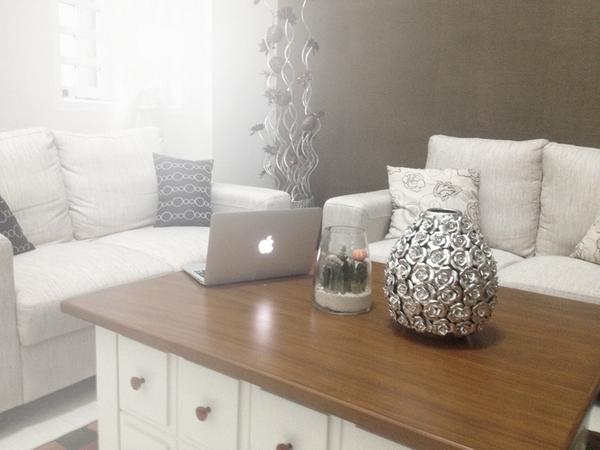 Everywhere, but probably around 90 percent of the time, I do it at home. However, I don't have a particular workspace to write. Often times, I write in my bedroom, on my bed, actually.
How do you write? What are the gadgets that you use? Music? 
My gears are mostly Apple. My first laptop was the MacBook white, with which I produced Divortiare (my second book). Then, the Titanium MacBook (with which I produced Antologi Rasa), and lately I've been using MacBook Air. Sometimes when I got an idea while I was in the car, I would jot them down with iPad and send it via email to myself so I can incorporate it later with the draft in the laptop. I also use legal pad and pen to write whenever I don't have my gadget with me.
Furthermore, I do listen to music when I write. I have a playlist for each novel.
How does your "writing day" typically look like?
When I write on weekdays: I went home from work, had dinner, then write from 8ish to probably 9.30ish. I prefer not to write too late because I work better when I'm not too tired.
On weekends: I wake up at 7 (I'm an early riser), watch some TV, have breakfast, take a bath, then write from around 8.30ish til lunch. I go out for lunch, catch a movie or something, then start writing again in the afternoon.
Could you please share the whole process for you in 'conceiving' a novel?
I write spontaneously. Let's say, I suddenly have an idea in the form of a premise for a story, or I have an idea to write a scene. I just write the first scene just like that, maybe the first 1-2 pages, and then I continue the story whenever I have more ideas. I never use outlines of any kind. I'm the kind of person who gets bored easily when I have found out how the story will turn out. I'd like to surprise myself too when I'm writing, so I just write what I know at the moment. Often when I started writing a paragraph, I didn't know yet what's the next paragraph is going to be, and that's the beauty of it. I let the story flows as it is. I don't plan scenes, plots, and endings, I just let where the story takes me. That way I feel more liberated. Outlines imprisoned me.
---
#KetikaMenulis adalah serial tulisan yang berisi wawancara dengan penulis-penulis terkemuka di Indonesia, mengupas bagaimana mereka menjalani proses kreatif dalam pembuatan sebuah tulisan, termasuk kebiasaan-kebiasaan para penulis ketika menulis. #KetikaMenulis diterbitkan setiap hari Kamis di alandakariza.com.  Ada nama penulis kamu kagumi dan inginnya bisa kita wawancarai? Cantumkan di kolom Komentar di bawah ya.